Name: Vicente Guimerá
Year of fellowship: 2013-2014.
Type of fellowship: Trauma and Elective
Summary of your fellowship:
'I applied for a Trauma Fellowship, but I ended up doing some elective as well, which was great, because I learnt tones of knee surgery with Mr Keating (JFK).
I did bits of elective first 6 months working for Mr. Brown (shoulder replacements and shoulder scopes) and much more elective during second six months with JFK (knee replacements, osteotomies and knee arthroscopy) because the knee fellow that was supposed to work for him and another elective consultant, did not show up. When I was a senior trainee in Spain I did a two month rotation in orthopaedic trauma with the international AOTrauma Fellowship in the Princess Alexandra Hospital in Brisbane, Australia. After that, I knew that after I finished my training (in Spain, orthopaedic residency is 5 years) I wanted to do a trauma fellowship.
I applied for the Edinburgh trauma fellowship because the unit had a very good reputation for research and education and because it was closer to Spain than Australia! My time there was great. I learnt tones of orthopaedic trauma, not only orthopaedic trauma itself, but also the way to approach the injury, the soft tissues, the several treatments that can be done, the way to teach in the trauma meetings, the discussions of cases, the way to plan and offer a surgical or conservative treatment to the patient at the clinics or at the ward, the intangible knowledge, that really was the best for me.
I got to do a lot of operations by myself nearly since the very beginning and that was great too, both in trauma and elective. I had the feeling that the staff trusted my competence and that helped me to grow as the months passed. Everyone was always very nice to me, never a bad word, making me feel part of the Edinburgh trauma family!'
What were the best bits about your time in Edinburgh?
Everything I learnt about trauma and elective orhopaedic surgery.
Getting to know another culture and society.
Friends for life.
Specific advice for prospective fellows:
Work hard since day one. Make yourself available. Show compromise with the Unit, you're a part of it. Read a bit everyday at home. And also have some fun on Friday night at the Doctors pub!!!
Where you are working now:
I am working in Ibiza (Balearic Islands, Spain) where I am from. I am working in a public hospital and doing some private as well. I am doing basically what I learnt during my fellowship: complex trauma (mainly lower limb), hip and knee replacements (mainly primary), knee arthoscopy (meniscus and ACL) and around knee osteotomies.
Speciality:
Orthopaedic trauma and hip/knee surgery.
Would you be happy for prospective fellows to contact you for further info (if yes please state best email contact):
Sure!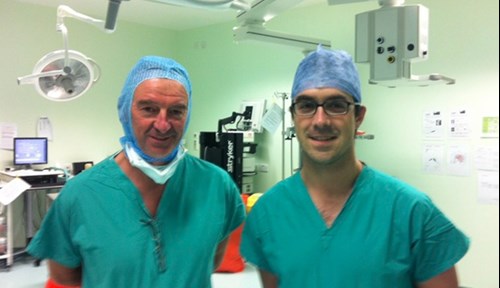 Vincete with Mr Keating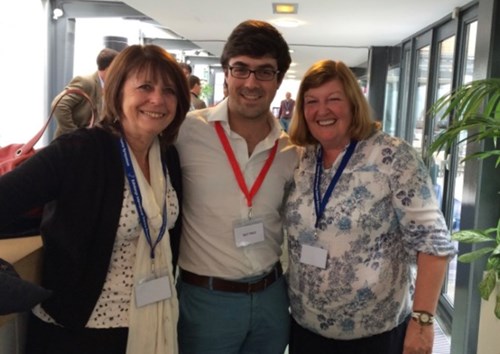 Vincente at the Edinburgh International Trauma Symposium